Exclusive Product from Biologique Recherche
A miracle of research led by Dr. Allouche and the Research & Development department at Biologique Recherche found the purest collagen in a primitive planktonic organism that hasn't evolved in more than 600 million years. This ancient collagen is the historical strain of all collagen types, the original base in its raw state, the mother of all collagen!
How Does This Serum Work?
Dr. Philippe Allouche, son of the founders and head of creation at Biologique Recherche, explains that the serum works to redensify the skin three-dimensionally by promoting the production of four types of collagen (of which there are 28 types total). That sounds like a lot of numbers, but the end result is this: smoother skin and reduced wrinkles.
As you well know, your skin's production of collagen naturally declines with age, adversely impacting firmness, smoothness, tightness, and plumpness. Thus, this serum was designed especially for skin conditions (what the brand dubs Skin Instants) with existing lines and wrinkles.
The formula harnesses the effects of the brand's star ingredient, Type-0 Collagen, along with botanical silene extract, soybean glycopeptides, and green microalgae, to encourage collagen types I, III, IV, and VII. Promoting types I and III (the most abundant forms of collagen in the skin) increases overall density, while types IV and VII improve the integrity of something called the dermal-epidermal junction (DEJ).
"It's the complex structure that anchors the epidermis layer to the dermis layer, and keeps skin plump and youthful. The serum lengthens and improves the DEJ while increasing the dermal layer," Dr. Allouche states.
WHAT IS TYPE-0 COLLAGEN?
This so-called "mother of all collagens" was found under the sea in a primitive marine planktonic organism, which Allouche describes as having not evolved in more than 600 million years. "It is so old that it constitutes the historical strain of all collagens," he says. "This is why we speak of Type-0 as the original basis of collagen."
All collagen is made up of amino acids, but this form contains amino acids threonine, serine, leucine, and tyrosine in high levels, as well as small amounts of cysteine. Among other things, topical amino acids can aid with skin health and qualities like water retention, cellular repair, the reduction of inflammation, and, of course, the production of collagen.
Due to its unique components, however, the challenge was finding a way to make the active ingredient shelf-stable at room temperature. "Like other marine collagens, [which are] generally from fish, Type-0 Collagen contains less hydroxyproline and proline than bovine collagen, hence less thermal stability. [However] it is perfectly stabilized in our formula and can be stored at room temperature," he says.
Years of research on skin's health led the brand to look back at the origins of collagen. "There was a certain level of epiphany during this research. All living beings on our planet are the result of complex mutations. Just like them, the collagen in our skin has evolved over the centuries, becoming increasingly differentiated into 28 types of human collagen," Allouche says. "We decided to dig deep into the origins of collagen, [which is where we found] the historical strain of all collagen types—the original base in its raw state—and its extraordinary benefits for the skin."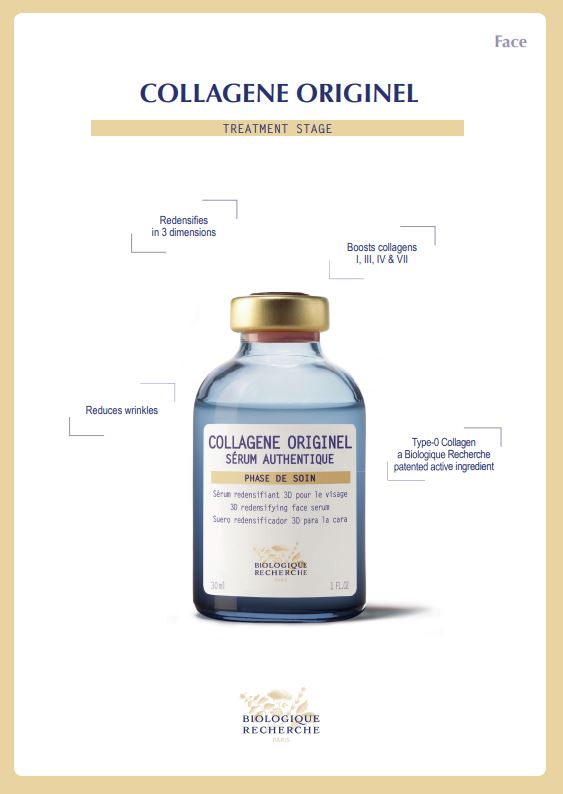 ABOUT BIOLOGIQUE RECHERCHE
For over 40 years, Biologique Recherche's unique methodology has built a strong reputation for astounding effectiveness based on a clinical approach to skincare, delivering immediate and long-lasting results. Combined with highly customized protocols and meticulous procedures which recondition the epidermis, Biologique Recherche's extensive range of skincare products are highly concentrated in botanical, marine and biological active ingredients that are formulated with no artificial fragrance in its own laboratory in France. Biologique Recherche is the partner of choice in over 85 countries for exclusive medical spas and day spas in addition to the world's premier luxury hotel spas. Its flagship, the Ambassade, is located at 32 avenue des Champs Elysées in Paris.

Available exclusively at The Spa at the Grand