Welcome to the Spa Trail on the Robert Trent Jones Golf Trail
First came great golf in 1992. Next, luxury 4 diamond hotels were added. Now the latest hospitality advances in Alabama come from six world-class spas and the creation of the Spa Trail on the Robert Trent Jones Golf Trail
"From traditional warm stone massages to red carpet ready facials, the RTJ Spa Trail features six spas across Alabama offering innovative treatments in exquisite settings," said Taylor Fields, Corporate Director of Spa for the RTJ Resort Collection. "From therapeutic massages to pampering treatments, the Spa Trail is ideal for individual golfers, couples traveling together or for groups of friends coming to play golf in Alabama." The spas are located in Marriott, Autograph, and Renaissance Hotels along the Robert Trent Jones Golf Trail: Point Clear, Mobile, Montgomery, Hoover, Florence and Opelika.
"With nearly 80,000 square feet of space collectively, the Spa Trail locations feature 49 treatment rooms offering relaxing and rejuvenating experiences for our guests," said Fields. "From the shores of Mobile Bay to the edge of the Tennessee River, the Spa Trail features some of the country's best spas. The Spa Trail features the two main attributes of the renowned RTJ Golf Trail: quality and value," he said. "The combination of great golf, hotels and spas is appealing to both leisure travelers and business meeting groups."
As part of the Spa Trail, an annual RTJ Spa Trail Card offers discounts on spa services, hotel rooms, dining and retail shopping. A complimentary glass of wine and various perks such as hotel accommodation and food & beverage discounts are additional values offered to Spa Trail Card members. The RTJ Spa Trail Card can be purchased for $50 with benefits all year long in any of the six spas. "Guests having spa treatments at each of the Spa Trail's locations will earn a free treatment of their choice at any of the spas," said Fields. The Spa Trail cards are sold at the individual spas and are good for the entire calendar year," he said.
Where we are
Starting in the northwest corner on the banks of the Tennessee River and winding south to the pristine white sand beaches along the Gulf Coast, the Spa Trail on the Robert Trent Jones Golf Trail encompasses six locations in the state of Alabama.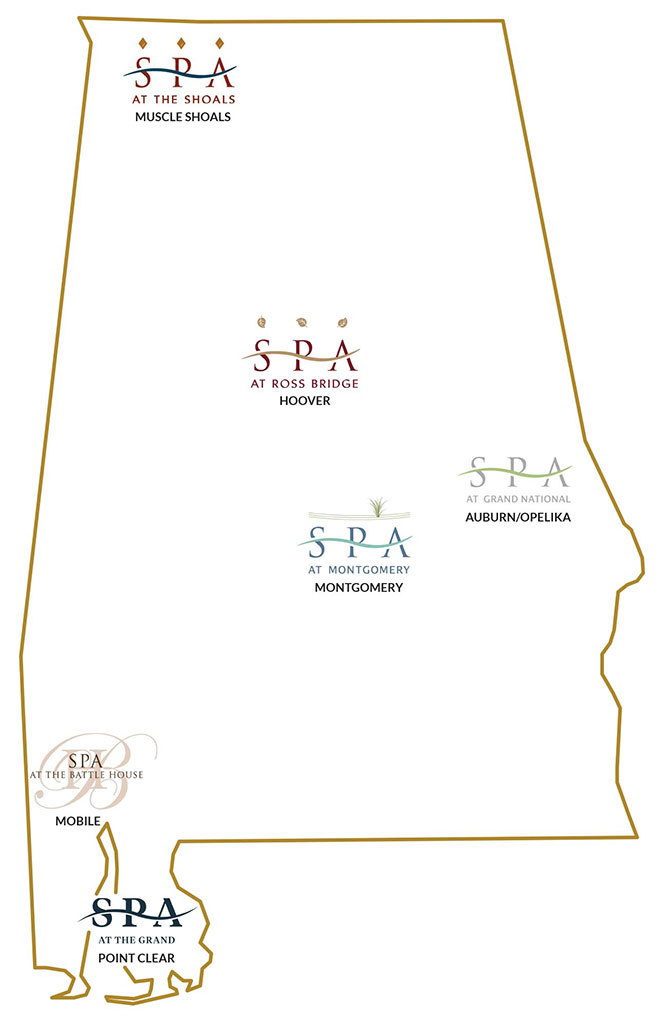 Contact Us