The Renaissance Ross Bridge Golf Resort & Spa is proud to announce the upcoming "Find Your Freedom at Ross Bridge" Wellness Retreat, taking place from October 26th to 29th, 2023. This transformative event will immerse participants in the natural beauty of Birmingham, Alabama, offering a unique opportunity to reconnect with themselves, find inner peace, and embrace joy and happiness.
Nestled amidst the rolling hills of Birmingham, Renaissance Ross Bridge Golf Resort & Spa is the perfect backdrop for this exclusive retreat. Participants will experience four days and three nights of luxury accommodations, gourmet dining, fitness classes, and a wide range of wellness activities, all designed to nurture the mind, body, and soul.
The retreat is led by Heather Thomson, an experienced wellness expert, who is dedicated to helping individuals achieve personal growth and conscious living. Thomson's Pure Freedom Retreat is centered on the idea that true freedom comes from within, and this event will guide participants on a journey of self-discovery, renewal, and transformation.
"The intention of Freedom is a deeply empowering inner and outer journey leading to renewal and transformation while accessing a place of immense clarity and wisdom. It includes innovative and powerful practices that will support our truths while empowering the consciousness of our true being, clearing away emotional and mental clutter, and opening us up to love, light, happiness, and peace," says Heather Thomson.
During the retreat, participants can look forward to activities such as forest bathing on wooded trails, morning rituals, meditation sessions, and community-building experiences. The program also includes clean nutrition, spa treatments, art classes, outdoor adventures, and wellness workshops, allowing attendees to explore various avenues of self-care and self-discovery.
Highlights of the "Find Your Freedom at Ross Bridge" wellness retreat include a welcome reception dinner, a wellness swag bag reveal party, healthy meals, group hikes, a fire pit ceremony, access to a state-of-the-art fitness center, indoor/outdoor pools, jacuzzis, live music, expert workshops, and more.
"We invite everyone seeking a transformational experience to join us on this journey to rediscover their inner beauty and peace," says Taylor Fields, Corporate Director of Spa, Wellness and Retail for the Robert Trent Jones Spa Trail. "It's a unique opportunity to connect with nature, engage in powerful practices, and build a community of like-minded individuals committed to finding joy and living freely."
Don't miss the chance to be a part of this exceptional retreat at the Renaissance Birmingham Ross Bridge Golf Resort & Spa. Find your freedom and embark on a journey of self-discovery and renewal. To secure your spot and learn more about the retreat, Click Here.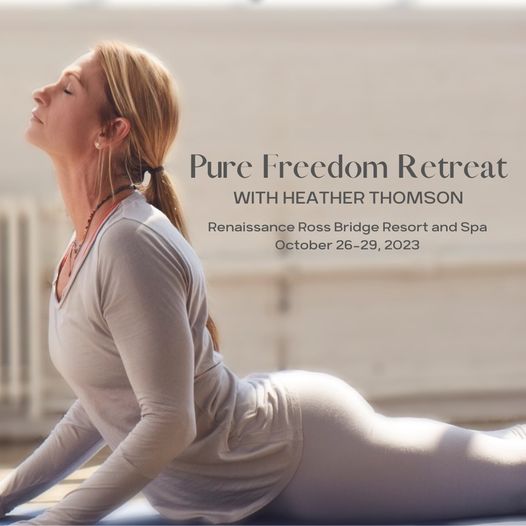 About Renaissance Ross Bridge Golf Resort & Spa:
Experience the allure of Renaissance Birmingham Ross Bridge Golf Resort & Spa. With a scenic location near Hoover, Alabama, our hotel in Birmingham, AL ensures you're never far from things to see and do. On site, you'll find the fifth-longest golf course in the world at 8,191 yards and 18 holes, as well as beautiful ballroom space and a full-service spa, The Spa at Ross Bridge. Following an exciting day, retreat to one of our stylish rooms and suites, each equipped with elegant furnishings, luxurious bedding and a private balcony boasting astonishing views of the Alabama hills. After a relaxing evening, wake up with an appetite for savory dishes from any of our upscale restaurants and bars including Brock's, The Clubhouse Restaurant and JT's Lounge. When you're not indulging, release some of your energy at our 24-hour fitness center. We also feature sparkling indoor and outdoor pools, so you can make a splash every season of the year.
About Heather Thomson:
Heather Thomson wears many hats, mother of two, wife, inventor, designer, entrepreneur, podcaster, philanthropist, performer, speaker, athlete, licensed health and wellness coach, TV personality and an avid adventurer. Thomson has garnered 25 years of fashion experience including serving as founding Design Director for the Sean "Diddy" Combs line, Sean John, and as Co-Creative Director alongside Beyoncé Knowles and Jennifer Lopez to launch and develop their respective labels. In 2008, Heather founded her innovative and fashion-forward collection, changing the shapewear industry and empowering women to look and feel their best. Currently, Heather is spending time on her passions, her podcast "In MY Heart" and Beyond Fresh – her organic superfood brand. As a Certified Integrative Health Coach, Heather focuses on a holistic, science-based, easy-to-follow approach to nutrition and health.
But to many, Heather is an adored reality star, staking her claim to fame, from her years on the hit Bravo reality series, The Real Housewives of New York City!